4 tags
1 tag
Robots and Dinosaurs tour a nuclear reactor and...
On Saturday members of R&D headed to south western Sydney on an excursion to ANSTO, the centre of nuclear science, research and development in Australia. ANSTO hosts Australia's only nuclear reactor OPAL, the ANTARES particle accelerator, the Neutron Guide hall and it's suit of instruments and many other experiments and facilities. At the Visitor Centre we were greeted by Professor Proton...
RnD Halloween Time Travelers Party!
We had/will/did have our time travelers halloween party on Saturday night. It was simply great! Everyone had a ton of fun showing off their awesome costumes,  arguing over which interpretation of primer was correct, and whether or not we could have jumpstarted civilisation armed only with the content of our pockets! In the afternoon we did workshops on essential time traveler skills, such as how...
1 tag
RnD Time Travel Halloween Party -- Instructions...
We will have seen you then!
1 tag
David's Homebuilt Guitar
So, this week's project is an awesome minimalistic guitar built by David (Shig).   He used an ordinary piece of wood that was laying around, added a bridge, plus tensioning hardware made out of bolts found entirely at the space. He added a set of strings and an acoustic pickup he got, and voila. Electric guitar!
Cool Thing Of The Week -- A Tribute to the Kludge
This week, I'd like to pay tribute to something we're probably all familar with. The Kludge. "An ill-assorted collection of poorly-matching parts, forming a distressing whole" Now there are few words that have such conflicting connotations. (except perhaps 'hacker'…) To some it's the worst insult you can imagine. To others it's a mark of pride to have their work called a kludge. In just the last...
1 tag
Cool Thing of the Week -- AGM & PCR Machine...
OK, a quick and hurried update, since we've been a bit rushed in the last week with our second Annual General Meeting. AGM #2 The results of the Board of Directors were announced. The 2010/11 Board of Directors: President: Gavin Smith Vice-President: Terry Dawson Treasurer: Jeremy Apthorp Secretary: Kathryn Small Minister for the Interior: Chris Beckett Ordinary members: Bec Owen, Max...
1 tag
Cool Thing Of The Week -- Microwave Hot Spots
Ok, so we were sitting around thinking about our microwave. You've probably come across hot and cold spots in your microwave before. But where are they located, and how can we figure it out? Well, we figured that a good way to do it would be to use the microwave to heat something, and then image it with a thermal camera. The photo on the right shows the microwave, with the target removed to...
1 tag
Cool Thing of the Week! -- A New Regular Segment
So, here's our idea for a regular segment at RnD. CTOTW. This is intended to be a place for use to visit the nagging questions that bug you that you'd otherwise ignore. Like 'What is the density of a cow', or 'where exactly should I put stuff in the microwave to heat it up quickest?'. Each week we'll build a project, tweak something or set something on fire and report on it to you. And as...
Internet
The space is now equipped with (sort of) high-speed broadband, so we're no longer breathing through the drinking straw of a dialup-speed Unwired modem. Installing the ADSL was an Adventure™. For starters, I had to wake up at 6.30am to get to the space by 8am, which was when TPG said was the earliest time the engineer might reach the house. I arrived with coffee and Subway cookies, and looked...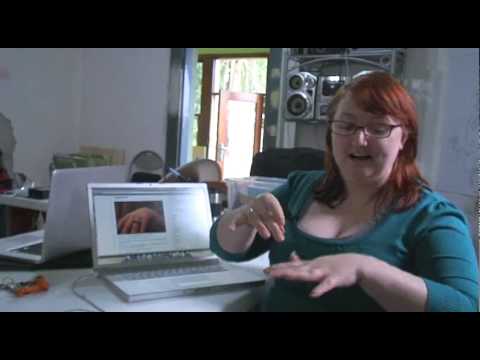 1 tag
Arduino Cheat Sheet V.02
Moved: Arduino Resources
1 tag
Rocket Car Day! Photos and Vids
For those of you that haven't been following, we attended Rocket Car Day 2010 on the weekend. This is an event where everyone cobbles/crafts/hacks together the most baddass vehicle they can, then crams a rocket engine into the back and competes for honor and glory! Some people spent a lot of time on their cars: Others less so: Unsurprisingly at such a geeky event, RnD members were there in...
2 tags
Beco Blocks, the 3d printable, snap together, ball...
Initially created as a prototype for another ball and socket based project, these blocks functioned so well I decided to make a number of variations to allow the creation of more complex objects. Beco blocks are great as toys and i suspect might also find practical applications for things like: Light duty hinges. Printable helping hands Internal skeletons for soft toys. Snap together...
1 tag
Tinkering — November 14th
More tinkering again this Saturday. We built a hot-wire foam cutter for the space, which should come in handy with our upcoming drumkit workshop. Playing around with the BlueBoards we got. Congrats to Kean for solving the downloading problem. Congrats to everyone for pledging for our new CNC Machine! We've reached our target in under 24 hours! I'll put in the order tonight, and...
Robots and Dinosaurs Halloween Party & Movie Night
This Saturday we had our Halloween party and movie night. We started off with talks on Iphone Programming, CNC machining and more. We'll continue these talks in future for all sorts of topics, so stay tuned. As an Australian tradition, in lieu of Pumpkins, we had Mellon carving! We've also got some more pictures up here: http://www.flickr.com/groups/robotsanddinosaurs/
1 tag
Tinkering -- October 24th
Had our usual weekend tinkering this Saturday. Breaking News: We got our own Slurpee machine! Some highlights: Got a slurpee machine! SuperProbe manufacture Making the DSO kits we group-ordered Made a prototype drumkit for future workshop stuff Juggling & Poi practice
3 tags
Superprobe
I came across the Super Probe two weeks ago, and just had to make one. I had a bunch of the PIC 16F870 microcontrollers left over from an earlier project, and the rest of the parts were all easily found in my parts collection. It is a really simple circuit, with so many useful features: - Logic Probe (L 3.7 V, P > 0.5us pulse) - Logic Pulser (0.5 us pulses at 5, 50, 500, 5k Hz) -...